In no other times, were supply chain disruptions more evident and glaring than now. The ongoing pandemic created havoc on both local and global supply chains. Supply chain practitioners were desperate to get back to operational stability at the earliest because of which there were renewed interest in supply chain control towers. As part of our Supply Chain Control Tower offering, our team had numerous discussions with senior supply chain professionals to understand their idea of a control tower. This post is to reinforce some ideas and debunk some of the misconceptions around this topic. Let's start with the debunking part, so that things get lightened up. First of all, a Control Tower is not a reporting tool. Neither it is for end to end visibility only. Those are anyway covered in reporting platforms.
A control tower is a real-time decision making system. One that helps operational planners identify potential disruptions and help them in the decision making process to mitigate those risks.
Let's take a real use case. In one of the FMCG companies, the monthly forecasting accuracy at the planning code level was around 55%. After implementing our ML based demand planning solutions, the forecasting accuracy went up to around 85%.  Given the complexity of business, this is a good forecasting accuracy for tactical planning. The entire production and procurement can be streamlined based on that. However at the execution level, there will be hundreds of changes happening. This is called white noise. This component cannot be predicted. So we have to live with this reality. The only thing that can be done about these changes is to adapt the supply chain at an operational level. This adaptation requires a series of quick decision making processes based on real time data. This is where the control tower steps in.
A control tower enables real time decision making for supply chain disruptions. This decision making, transcends all processes of the supply chain.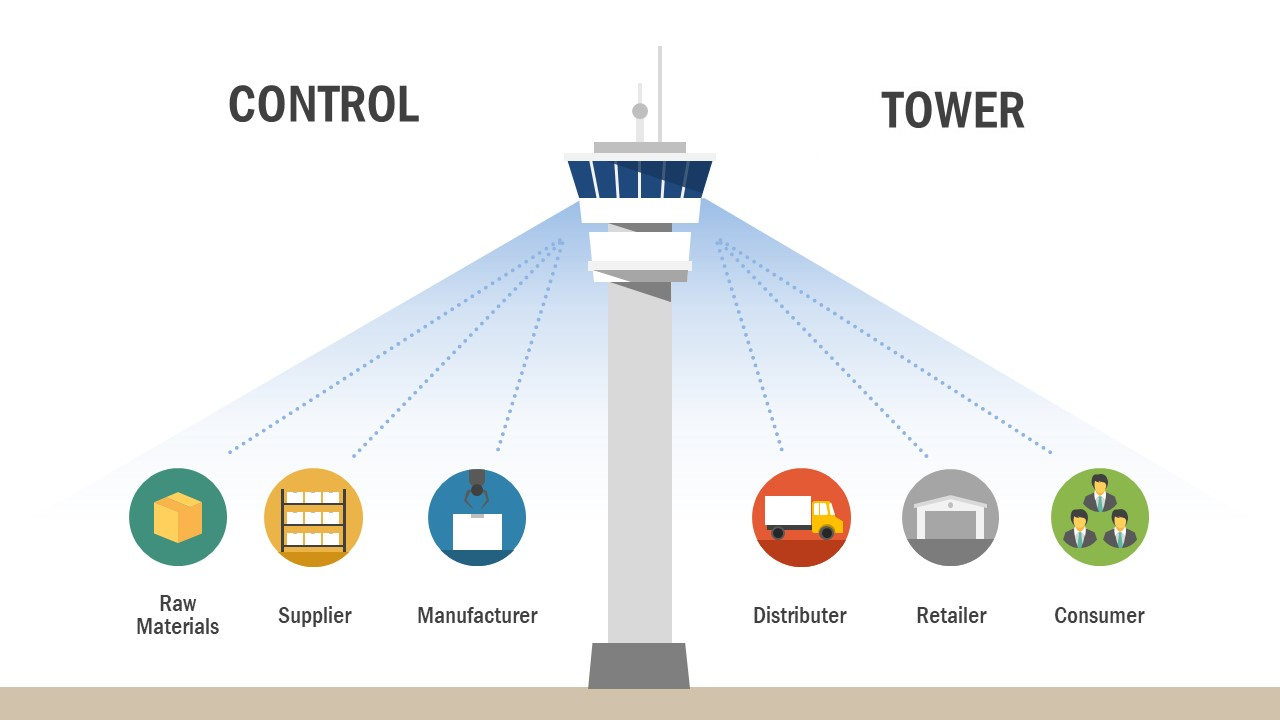 It helps if the control tower comes with reporting and alerting capabilities also, so that it becomes a one stop solution for bringing complete control of operations. Only reporting and alerting capabilities without planning capabilities don't usually qualify as control towers. People need to be put to bring the 'brain part' of the control tower.
In the evolutionary journey of supply chain maturity, control tower comes way down the line. Forced by the disruptions that happened because of COVID, we have seen some companies jump to a control tower without putting the fundamental tactical planning processes in place. This is akin to putting fuel in fire, with an automated fire extinguisher system in place. The cost of firefighting will simply skyrocket.
We suggest a four phase process.
Phase 1 – Streamline Strategic and Tactical supply chain planning for the core operations.
Phase 2 – Digitize Dealer activities (DMS), Warehousing operations (WMS) and Logistics operations (TMS). The real time feed from these solutions help control tower make better decisions.
Phase 3 – Deploy a control tower with operational planning capabilities. The control tower will use feeds from all these systems to make better decisions.
Phase 4 – Add IoT and predictive analytics capabilities to preempt some of the disruptions.
For the sales team, the following are the typical questions answered by the control tower.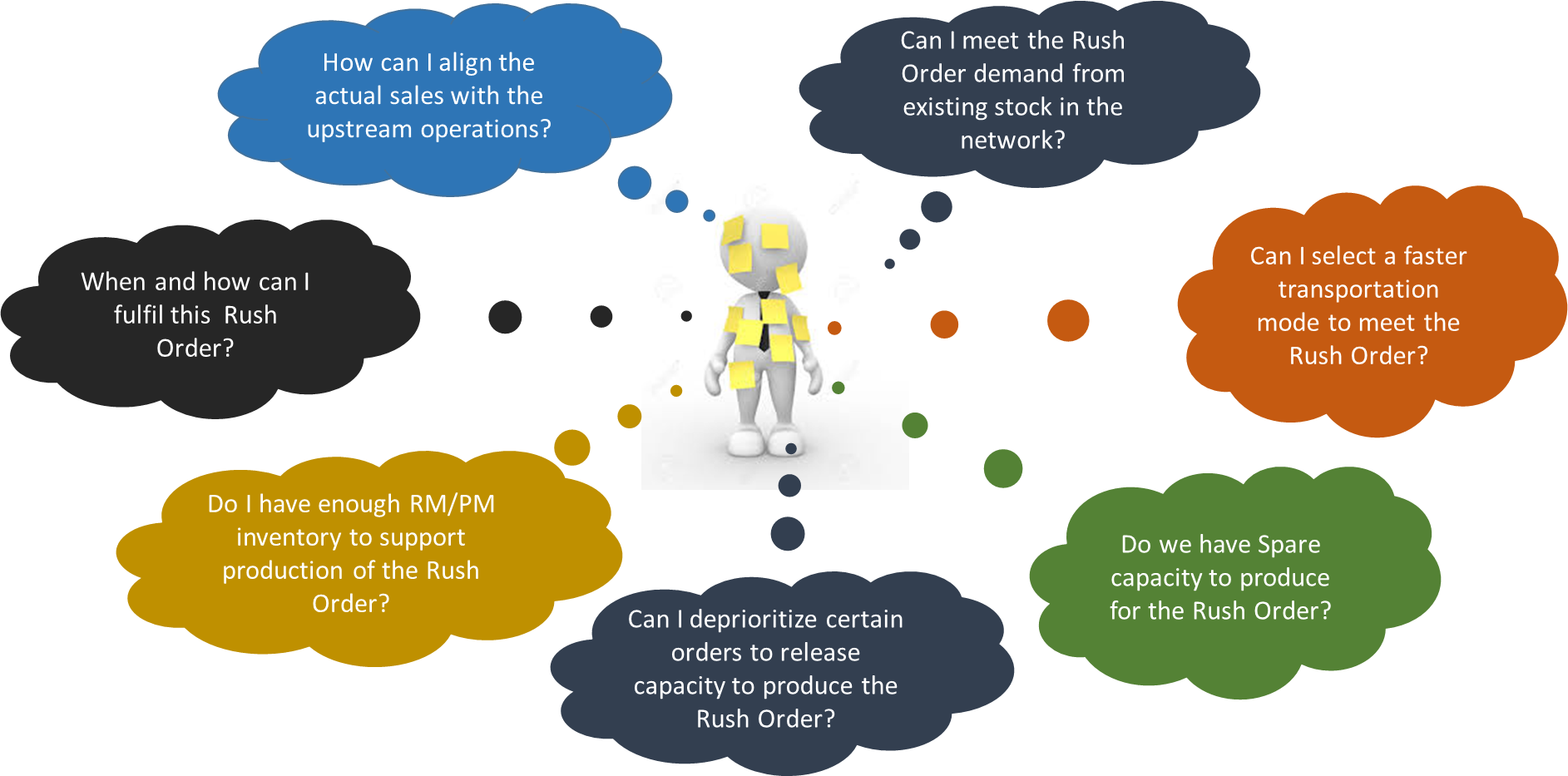 For other teams, the following table lists down the typical disruptions that might happen and the questions that need to be answered for those.
Disruption
Impact
Logistics
Vehicle ETA is more than expected
Which all SKUs will go below Safety Stock?
Which all SKUs will have no stock?
Which all existing orders (that require this supply) will get impacted?
Production
There is a QC issue in a Batch
Which existing orders will be impacted? (MTO scenario)
Alerts for FG that will face shortage
There is a machine breakdown in the Shop Floor
Which existing orders will be impacted? (MTO scenario)
Alerts for FG that will face shortage
Procurement
Critical RM is delayed
Which one of the existing orders will be impacted? (MTO scenario)
What all FGs might face shortage?
There is a Rush Order
Can my supplier meet the increased RM requirements?
Warehousing
There is a space constraint in the Warehouse
What all trips will face detention?
Batches are nearing expiry
Can we run some promo schemes to liquidate near expiry goods?